What is GamePad Launcher?
GamePad Launcher (GPL) is a program created for launching games easily on smaller touch screen devices running Windows, specifically the GPD Win. At the time of this writing, it is in a very early state and is lacking important features like adding multiple games to the program's library at once.
Current Features
Add EXE, Windows Shortcuts, and Steam Shortcuts
Large buttons and icons for easy touchscreen use
Auto-closes after a game launched
Start game when Xinput controller detected
Start game when Dinput controller detected (start program with Dinput already connected, you can then switch it off and on as you wish)
Graphical and Text based layouts
Easily switch between power profiles in Windows
Switch to High Performance mode on game launch
Automatic Update Checking
Low CPU usage (with option to lower further)
Keep SD awake (Smoother gameplay off SD Card, requires "close on launch" unchecked)
Fullscreen mode for even larger interface
PLANNED FEATURES
Add Directories
Automatic Game Library Detection
Specific per-game launch options
Community Submitted Optimal Setting
Built-In Keymapper
Animated / Nicer User Interface
Customization Features
Change System Resolution
Sort Options
File Renaming
DOWNLOAD HERE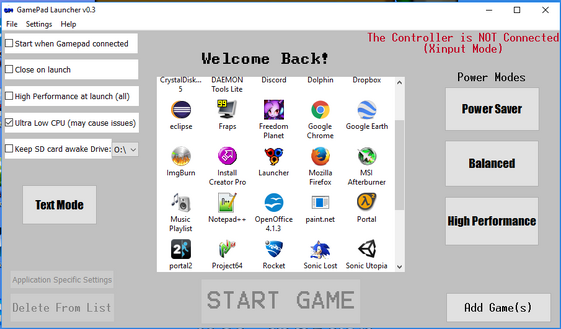 Community content is available under
CC-BY-SA
unless otherwise noted.