Directional Pad:
Old 3DS XL or New 3DS XL Directional Pads are an exact match so can serve as a viable Replacement. Due to the Indent in the Center and the less Smooth couture of the Plastic, this would be more preferred.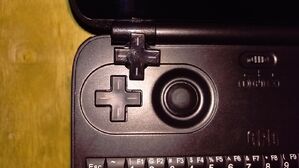 Joystick:
The 2nd Gen Vita Joysticks are a compatible match for the GPD Win. I have tried using a 1st Gen Vita Joystick, but when I tried using the Mouse, it just pulled down and Left. So only go with the 2nd Gen which only has 4 connections in the Ribbon Cable. There are 2 Versions of the Joysticks though. 1 version that is exactly the same as the Stock GPD Win, and there is one that matches the Vita Joystick. The 2nd one in my opinion is much better. Better Rotation, feels better, does not slip as much from your Thumb.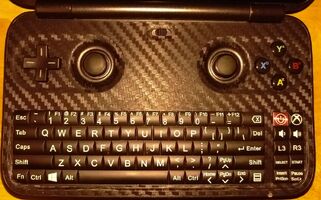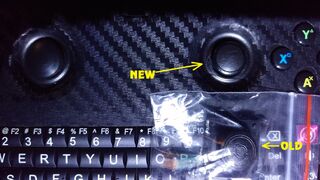 Other
So far, I have not found out about Replaceable Batteries, Buttons or Case Screws which is really important because after a few times of opening the Device, the Screw Heads can start to get Stripped becoming harder to remove and/or secure.
I would like to see if there is a possible Screen Replacement that accepts Note or Surface Pen Inputs for better accuracy.
Replacement Bottom Shell Housings
There are a few Designs that have been created for Users who have access to 3D Printers. There are 3 Primary Designs.
1: A Larger Battery Mod that has a larger Battery Housing area and has more Airflow.
https://www.thingiverse.com/thing:2636850
2: A Mod that has Grips for better handling
https://www.thingiverse.com/thing:2626072
3: Not a Housing Mod, but it is a Grip with a Samsung T3 or T5 SSD Slot
https://www.thingiverse.com/thing:2569597
Potential Replacement Battery
https://www.alibaba.com/product-detail/Sunda-8448104-Li-polymer-battery-6700mAh_60706335417.html
Battery is 3.8v 6700mAh
Measurements are 8.6*48.5*105.5mm . Stock Battery - 98 x 62 x 5mm. Actual Measurements of the Stock Battery is 101.60 x 46 x 8mm. However, the Thickness might be a little off since my Battery is Swollen. Awaiting Batteries to Arrive in the Mail. Will give Actual Size when I get them. There is another Battery that was suggested, but the Wires to the Molex Connector did not match.