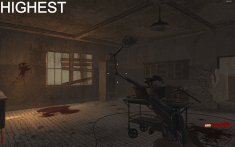 Nazi Zombies is a gamemode in Call Of Duty: World At War (2008).
Notes
The resolution is 800x600 if not specified otherwise.
The game is a Steam installation of WaW, patched with an uncut patch (since it was originally the German version).
I currently don't own a GPD Win but I test the games on a Surface 3 which uses the same chipset. Surface tests are marked with "S3".
Original maps
| Maps Name | Framerate | Notes |
| --- | --- | --- |
| Nacht der Untoten | 50-60 fps | S3 |
| Verrückt | 40-50 fps | S3 |
| Shi No Numa | 40-60 fps | S3 |
| Der Riese | 60 fps (most of the time) | S3 |
Custom maps
| Map Name | Framerate | Filesize | Notes |
| --- | --- | --- | --- |
| Kino The Rebirth | 35-50 fps | 440 MB | S3 |
| Leviathan | 35-60 fps (Varies depending on environment) | 430 MB | S3 |
| Herrenhaus | 30-60 fps | 340 MB | S3 |
| Collingwood (CPH) | 30-50 fps | 250 MB | S3 |
| Hotel v2.1 | 60 fps | 180 MB | S3 |
| Requiem | 30 fps | 390 MB | S3 |
| Project Viking Final | 30-60 fps | 500 MB | S3 - Runs at 40-60, but sometimes drops to 30 for a second |
| Candyland | 35-60 fps | 85 MB | S3 - Framedrops when looking at the big object in the spawn room. |
| Clinic Of Evil | 50-60 fps | 450 MB | S3 |
| Five | 60 fps | 85 MB | S3 |
| Nacht Reimagined | 60 fps | | S3 |
| ORBiT | 60 fps | | S3 |
| Dead Ship | 30-60 fps | | S3 |